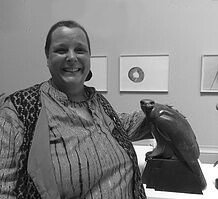 1993-96 BA (Hons) Applied Arts, University of Derby
Ama is based in the West Country, and is best known for her bronze birds of prey. Her work celebrates the successful reintroductions of species such as the Red Kite, and naturally recovering Buzzard. Ama is a passionate supporter of rewilding and has created life sized bronzes for zoos.
Her sculptures are stylistically inspired by etchings, woodblock prints, early 20th century illustration and Art Deco stone carving.
SELECTED EXHIBITIONS
2018 Artist in Residence Nature In Art Wallsworth Hall, Gloucester
2017 Society of Wildlife Artists, Mall Galleries, The Royal Mall, London
2016 Royal Scottish Academy Open, The Mound, Edinburgh, Scotland
2016 Society of Women Artists, Mall Galleries, The Mall, London